Café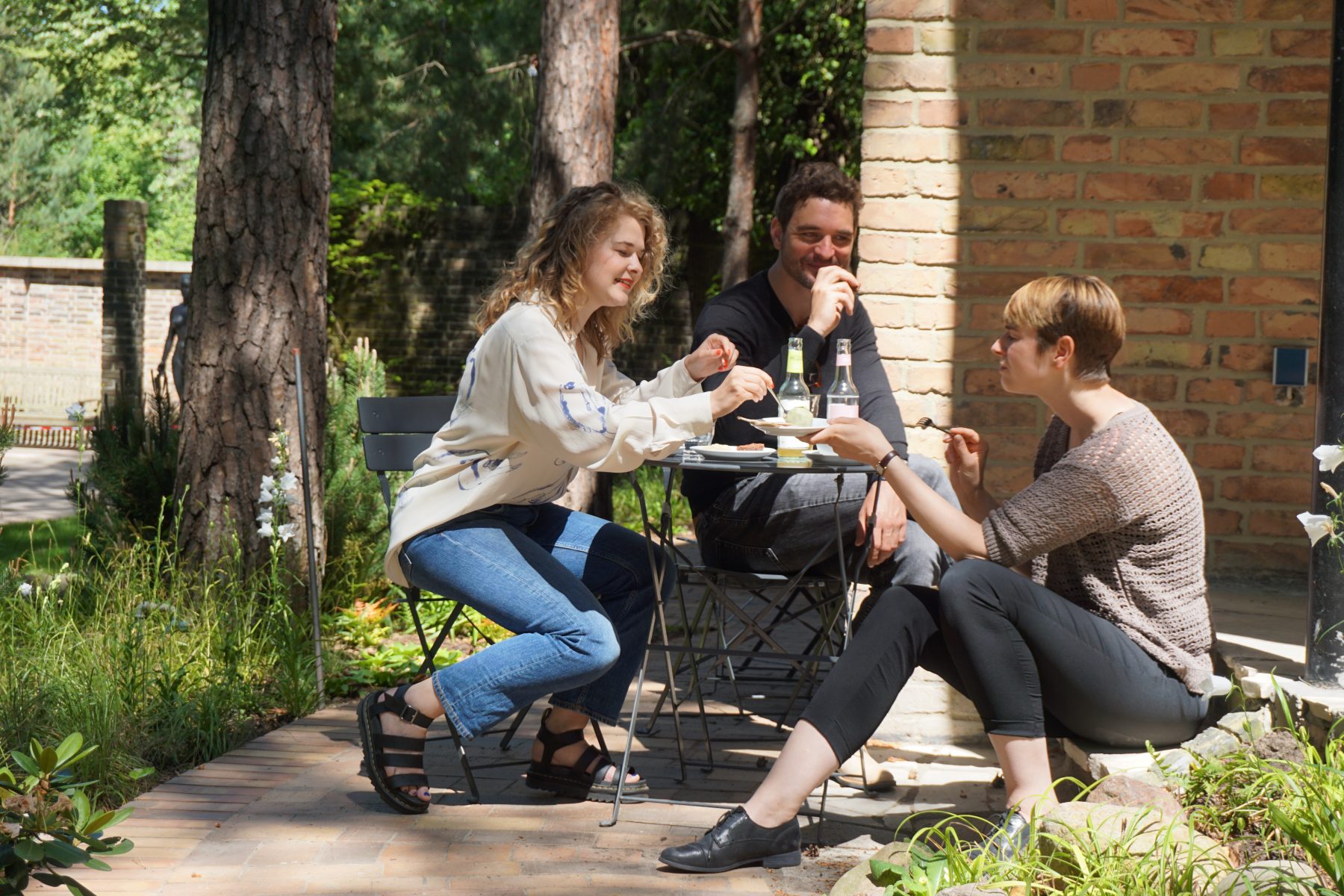 Café Benjamine owes its name to Georg Kolbe's beloved wife. After extensive renovation, the former residential building, which is part of the landmarked museum ensemble, has been home to a sustainable organic restaurant since spring 2021. In addition to breakfast, homemade cakes and coffee, daily changing lunch dishes and snacks are served here. The menu is seasonal with a focus on regional products. A fine wine list completes the offer. In good weather, the terrace offers a view of Kolbe's dancer fountain in addition to culinary delights. The large windows of the spacious dining room provide the best view of the museum garden and the former sculptor's studio.
Architecture and renovation
The present café building was erected in 1928 at the same time as the studio house – today's museum building. Designed as a home, it was initially occupied by Georg Kolbe's daughter and her family. In the post-war period, it was rebuilt several times, and at times served as an apartment building with several units. Since the end of 2020, as a result of extensive renovation work by the renowned architectural firm of Winfried Brenne, the heritage listed building has been restored to its original, unadorned charm – not least thanks to generous support from the Stiftung deutsche Klassenlotterie, the Hermann Reemtsma Foundation and the Berlin State Office for the Protection of Monuments. In the course of the renovation, the original color scheme of the building was carefully restored. In addition to the new catering facilities on the first floor, a director's office and the museum's library were installed on the upper floor.
Benjamine Kolbe
Benjamine Kolbe, née van der Meer de Walcheren (1882-1927), daughter of a musical Dutch noble family, was an opera singer. Georg Kolbe met her in the circle around Siegfried Wagner in Bayreuth. Their daughter Leonore was born in 1902. After moving to Berlin, Benjamine organized the Kolbes' social life and ran an open, welcoming home. Her early and unexpected death was a deep cut for Georg Kolbe that reverberated throughout his life. In the immediate aftermath of this stroke of fate, he had a new place of residence, work and retreat designed for him near the Heerstrasse cemetery, where Benjamine Kolbe was buried and where he himself is buried today: The ensemble of buildings that now houses the museum and café. Before her death, but also long after, Benjamine Kolbe's clear facial features found their way into her husband's work many times.